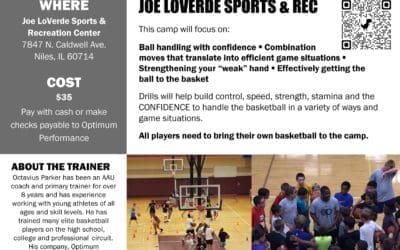 Monday, February 20th from 9:00am-10:00am at Joe LoVerde Sports & Recreation Center
read more OP – Optimum Performance focuses on training that develops skills along with mentoring and educating young athletes on the proper ways to view different basketball situations so that they can progress and compete at the highest levels.
All Illinois Central Elite – ICE players will train with OP – Optimum Performance coaching staff.
OP – Optimum Performance offers training year round. Basketball Training is offered in the following settings: Small Group Training, Individual or Private Training, Clinics, Holiday/Day Off School Clinics or Camps, Camps, Breakfast Club
For more information and pricing please email Coach Octavius Parker at octaviusparker24@gmail.com or op.optimump@yahoo.com.
OP Trainees Highlight Videos
All Star Classic 10th grade championship! Can we say lights out! Jay Brown, Octavius Parker
6th Grade-2026 Team Highlights from 2019 The Bullseye Tournament
Illinois Central Elite - ICE Champions