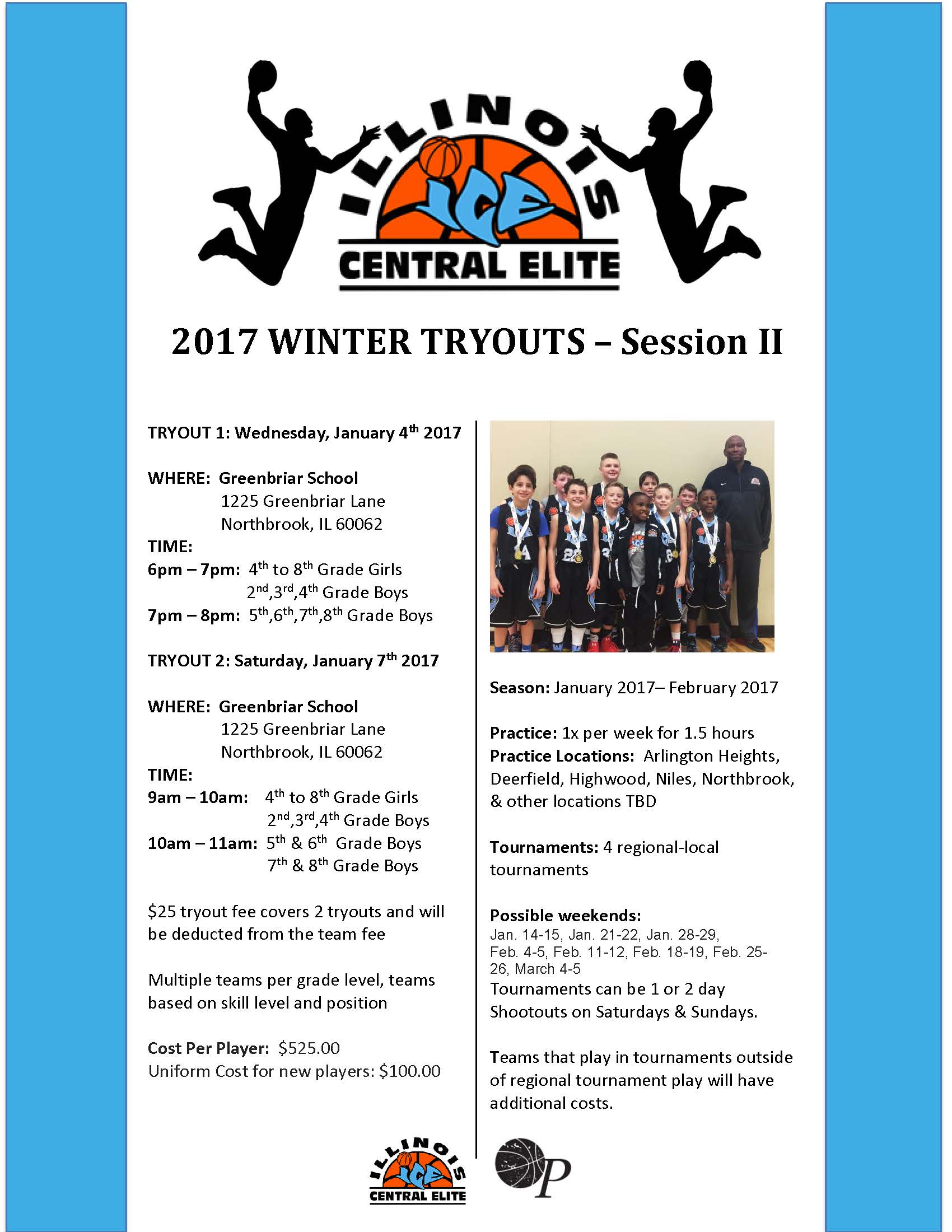 Winter Session-II 2017 Tryouts
1ST TRYOUT
Wednesday, January 4th at Greenbriar School, 1225 Greenbriar Ln., Northbrook, IL. 60062
6:00pm-7:00pm: 4th-5th-6th-7th-8th Grade Girls
6:00pm-7:00pm: 2nd & 3rd & 4th Grade Boys
7:00pm-8:00pm: 5th & 6th & 7th & 8th Grade Boys
2ND TRYOUT
Saturday, January 7th at Greenbriar School, 1225 Greenbriar Ln., Northbrook, IL. 60062
9:00am-10:00am: 4th-5th-6th-7th-8th Grade Girls
9:00am-10:00am: 2nd & 3rd & 4th Grade Boys
10:00am-11:00am: 5th & 6th & 7th & 8th Grade Boys
$25.00 tryout fee will cover 2 tryouts and will be deducted from the team fee once a player makes a team.
Team Information: Multiple teams at a grade level. Teams are based on players skill level and positions.
Season: January 2017-February 2017
Practice: 1 time a week for 1.5 hours.
Tournaments: 4 regional-local tournaments
Possible weekend dates: Jan. 14-15, Jan. 21-22, Jan. 28-29, Feb. 4-5, Feb. 11-12, Feb. 18-19, Feb. 25-26, March 4-5
Tournaments can be 2-Day or 1-Day Shootouts on Saturdays & Sundays. Teams that play in tournaments outside of regional tournament play will have additional costs.
Cost Per Player:
2nd-8th Grade Boys & Girls: $525.00
Uniform Cost for new players: $100.00
Home & Away sublimated ICE uniforms. Additional Illinois Central Elite-ICE Nike Gear will be available to purchase online after tryouts.
Practice Locations: Arlington Heights, Deerfield, Highwood, Niles, Northbrook and Other Locations TBD.
Please email info@illinoiscentralelite.com or call 847-456-2617 if you have any questions about ICE Winter Travel Teams!